Contains 10 forms to provide a planning baseline for projects including a vision statement, project charter, story points allocation, release plan, and more.

Contains 20 forms offering planning artifacts plus themes, epics, sprint planning/meeting, velocity, backlog, burn-up, burndown and grooming charts.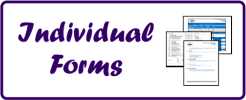 Purchase individual forms to accomplish speciifc tasks or fill in gaps in your processes, or select forms to create your own customized SDLC process.